Prices Starting at only $199 /mo
Plus $997 One-Time Setup
Basic
"I Need a Website fast & want to use Best Practices"
Plan Features

3 Updates a Month
Mobile-Friendly Website
Secure Hosting & Firewall
UserWay.org Widget
Industry Starter Page Content
100+ Languages *

Setup Includes

Billing Starts: 60 Days
15 Pages Setup for you
3 Revisions Prior to Launch
3 Stock Photos

* 2 Languages Included, $99/mo for Additional Languages or Customer Provided Translation
Professional
"I Want Better Search Engine Optimization"
Plan Features

Basic Plan Features PLUS
+2 Updates a Month
Chatbot for Lead Capture
100 Industry Videos
100 Industry Blog Posts
Email Marketing Integration

Setup Includes

Billing Starts: 90 Days
25 Pages Setup for you
5 Revisions Prior to Launch
5 Stock Photos
1 Stock Video
Enterprise
"Seek & Advertise To My Target Market"
Plan Features

Basic Plan Features PLUS
Professional Plan Features PLUS
+2 Updates a Month
6 Website Retargeting Ad Designs
3 Mobile Retargeting Ad Designs
1 Facebook Retargeting Ad Design
Ads Setup and Managed for you
Metrics and Reporting
$200 Ad Budget Included

Setup Includes

Billing Starts: 120 Days
50 Pages Setup for you
7 Revisions Prior to Launch
7 Stock Photos
3 Stock Videos
Learn What Plan Fits Your Organization
Exclusive To TitleTap
✓ Industry Specific Page Content
✓ Mobile-Friendly for All Devices
✓ Local SEO Optimized
✓ Free Website Redesigns (3 Years)
✓ Stock Photos & Video (per plan)
Best Practices & Security
SSL Certificate for Security
SOC 2 Compliant Web Hosting
Weekly Backups
Optional
UserWay.org
Widget
Multi-Language (100+ Languages) *
* 2 Languages Included, $99/mo for Additional Languages or Customer Provided Translation
Website Features
✓ Blog Module
✓ Careers & Events Modules
✓ Analytics Dashboard
✓ Contact & Order Forms
✓ Contract Upload Feature
"We routinely get deals from the general public who found us by a web search."
TitleTap Vs. Other Providers
Features
Mobile-Friendly Website

Secure Hosting & Firewall

Third-Party Accessibility Widget

Industry Starter Page Text

100+ Languages

Chatbot for Lead Capture

125 Industry Videos

125 Industry Blog Posts

Email Marketing Integration

7 Ad Designs

Built-In Ad Budget

Stock Photos

Stock Videos

Done-For-You Updates
With TitleTap
Included
Included
Included
Included
Included
Included
Included
Included
Included
Included
Included
Included
Included
Included
Other Providers
$6,000+

$2,500+ Tech Staff

$600 per year

$600 per page

$1,200 per language

$100+ per month

$1,000+ per video

$600+ per post

Manual

$1,000+ Graphic Designer

$300-1,000 per month

$15-25 per photo

$60-300 per video

$100+ an hour
Frequently Asked Questions
I already have a website, can I purchase individual products?
We've found that people get the best results when our marketing tools work in harmony with our websites. Selling them individually would be a disservice to you.
Where do your customers rank on Google?
91% of our customers rank on the first page of Google as of summer 2019.
* Based on a 2019 internal study. Results may vary due to factors out of our control such as backlinks, domain age and market competition.
How many cyber attacks do you prevent?
In an average month we block well over half a million hack attempts and several thousand cyber fraud emails from being submitted on our network of websites.
* Based on a 2019 internal study of our cyber reports.
How long does it take to build my site?
It mostly depends on your responsiveness and the number of revisions before launch. Taking this into account, the build to launch takes 2-3 months on average. However, we've launched websites as fast as 2-3 weeks.
If I start with a smaller plan and later find I want more features, can I upgrade?
Absolutely. If you find that your business has grown or would like it to grow faster, you want more features, you can always upgrade to a new plan. You just pay the difference.
Am I limited to the design templates on your site?
The templates are just a starting point. We offer a semi-custom approach to each website build so you don't have to worry about your website looking "cookie cutter" compared to any others. Changes to the design templates are made based on your specific needs, market, and target audience.
If I have an existing website can you just take it over and manage it for me?
Unfortunately not. In order to maintain industry compliance requirements and give you the best results, our website designs, secure hosting and other features are coupled into a single marketing platform.
Do you offer any discounts?
Yes, if you subscribe on an annual basis or sign up multiple accounts there are discounts available. Contact us to get custom pricing.
How do I add a function to my website that is not in the scope of my plan?
If you have a request that is not included with your plan simply let us know what you are thinking about. If it is something we can take on a custom quote will be provided.
What's the difference between TitleTap and other marketing agencies?
TitleTap has experience in Law and Title Insurance whereas most marketing firms are not specialized but general. As such, our plans come with marketing and compliance tools you won't find with general agencies like: a Chatbot, Firewall, Industry Blog and Social Media Content, Videos, and more!
What is the difference between TitleTap and website builders?
Most business owners don't have the time to build their own websites. TitleTap websites are semi-custom. You start with a template, then our team of designers modify and customize based on your branding and market. With other website builders you are still responsible for building your own site.
Can I have a "Coming Soon" or "Under Construction" page while my site is being built?
Yes you can. We charge a one time setup fee of $199 for a "coming soon" or "under construction" landing page. All other terms and conditions apply including the monthly billing for your subscription.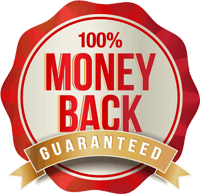 60 Day Money Back Guarantee
Most web designers make no guarantees. We know you'll love Title Tap. But if for some reason you don't within 60 days, we'll refund your money.
"…Now I frequently get new business, such as a one with several commercial properties downtown, who found me online."

Want More Opportunities?
Purchase additional pages, products or services to do more in less time.

Already have a website?
Purchase certain products or services separately to blast off your marketing.
Still Have Questions? We Have Answers.
Contact us below with your questions and we'd be happy to schedule a quick call to discuss.