The process of building a website, whether you are doing it yourself or hiring a web designer to help you out, doesn't need to be a complicated process. Here are 5 steps to make the process of making a website for your law firm or title company.
Step 1) Know who you are trying to attract
Before you start building anything or even hiring a company, be sure to know who you are trying to reach with your website. This may sound obvious but after building hundreds if not thousands of
websites for attorneys and title agents
, the specifics are often an afterthought. For instance, if you are a lawyer, what are your practice areas? More importantly, how do people search for those practice areas? It may or may not be the same as what you would call it. For example, consumers who are going through foreclosure may not search for a "real estate attorney", but instead "how to save my home from foreclosure." On the other hand, if you are a title agent, what are the common types of customers you help? Do you service residential or commercial? Or do you often help with more specialized services like FIRPTA or 1031 exchanges? If so, it's a good idea to have a page dedicated to each of the services you offer and keywords related to the business you want to go after so that people stumble upon it. Regardless, you'll want at least a page dedicated to each of these practice areas or services. Be sure to word it in a way that someone might search Google for it.
Step 2) Pick your provider or platform
There are a lot of website providers and platforms out there such as GoDaddy or Network Solutions, to name a couple of well-known ones. However, due to specific
best practices and compliance
, we strongly recommend working with an organization that is very familiar with your industry. For example, one of the best practices for title companies is to have SOC 2 audited servers and systems. But even popular providers like GoDaddy
have directly acknowledged
that they are not SOC 2 compliant. Likewise, as an attorney, in many states, your website is considered "marketing" and you (or better yet your website provider) must keep track of each of the changes made to it for compliance purposes. Most general website providers, freelancers, and marketing agencies do not know this! As a business owner, it is important to know these things. It might save you a few dollars upfront but in the long term cost you way more. TitleTap's servers, for instance, are SSAE SOC 2 Type II compliant, an industry standard, and include built-in security features to help deter things like spam, cyber attacks, and wire fraud from your website.
Step 3) Find examples of websites you like
A great starting point for any web developer or even yourself if you are building your own site is to find some examples of things you really like on other people's websites. I'm not suggesting you copy anything exactly but by doing this research first, you are able to really picture by solidifying aspects that you like about different sites. For example, maybe example A has a header or a menu that you really like. Example B has a really cool layout for videos, and example C has a nice page layout. You could easily send these to your chosen web designer to help create something similar. Web designers are not mind readers and different layouts look good to different people. The more examples you can give them of your likes, the better the website will look and function when it goes live. For example, even though these two websites use the same base theme, they look completely different as you scroll down.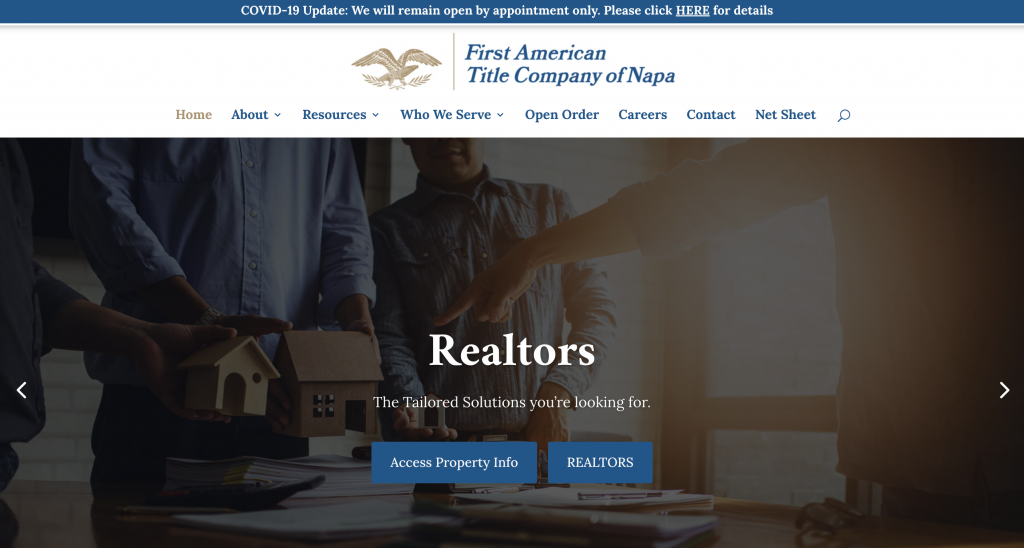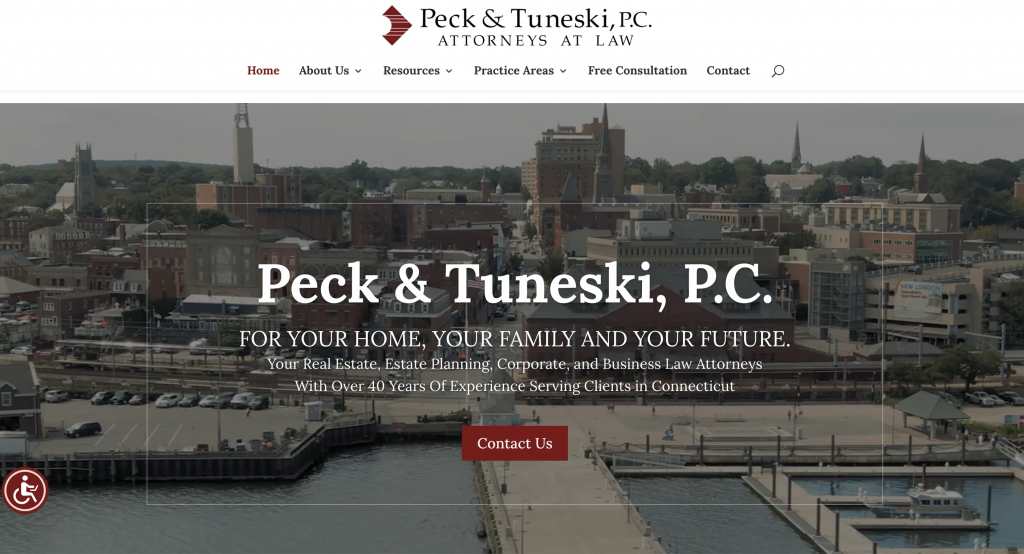 Step 4) Build and Revise
This is where the process gets fun because you get to see your idea come to life! Sometimes even though example A and example B looked good individually, together they don't have the same impact. As such, you may need to revise certain aspects of the website to make sure they blend together. Be patient and don't force something to work. If it doesn't feel or seem right, pivot and change directions. In fact, that is one of the
benefits
of TitleTap. Our team of web advisors is here to help. They have collectively built and launched hundreds of websites in the legal and title insurance space so they understand the challenges you face.
Step 5) Launch and Keep up-to-date
For most, this is their favorite step – and with good reason. All of the hard work and anticipation has paid off and you actually get to check this item off of your to-do list. But what is often forgotten is that this is where you have to start maintaining the site. For example:
Does the site have the latest security updates?
Did your staff change from what is listed on your website?
Did you add a service or practice area that you did not have when the site went live?
How will you market the website?
A website is only as effective as the information on it. Be sure to keep it updated to get the most use from it. This is another reason we recommend working with a provider who gets your business. Every
website plan
includes not only ongoing support and change updates but also security updates and marketing materials to help you drive more traffic to your website.
Don't have the time to build or maintain it yourself?
Most busy professionals don't have the time to focus much time on their websites. Instead, their time is better spent on working on files, talking with their customers, and billable hours. If that sounds like you,
request a quick call
to see how TitleTap can help you. We've helped hundreds of title companies and law firms because we come from those businesses and understand your struggles.